An Interview With Luc Mehl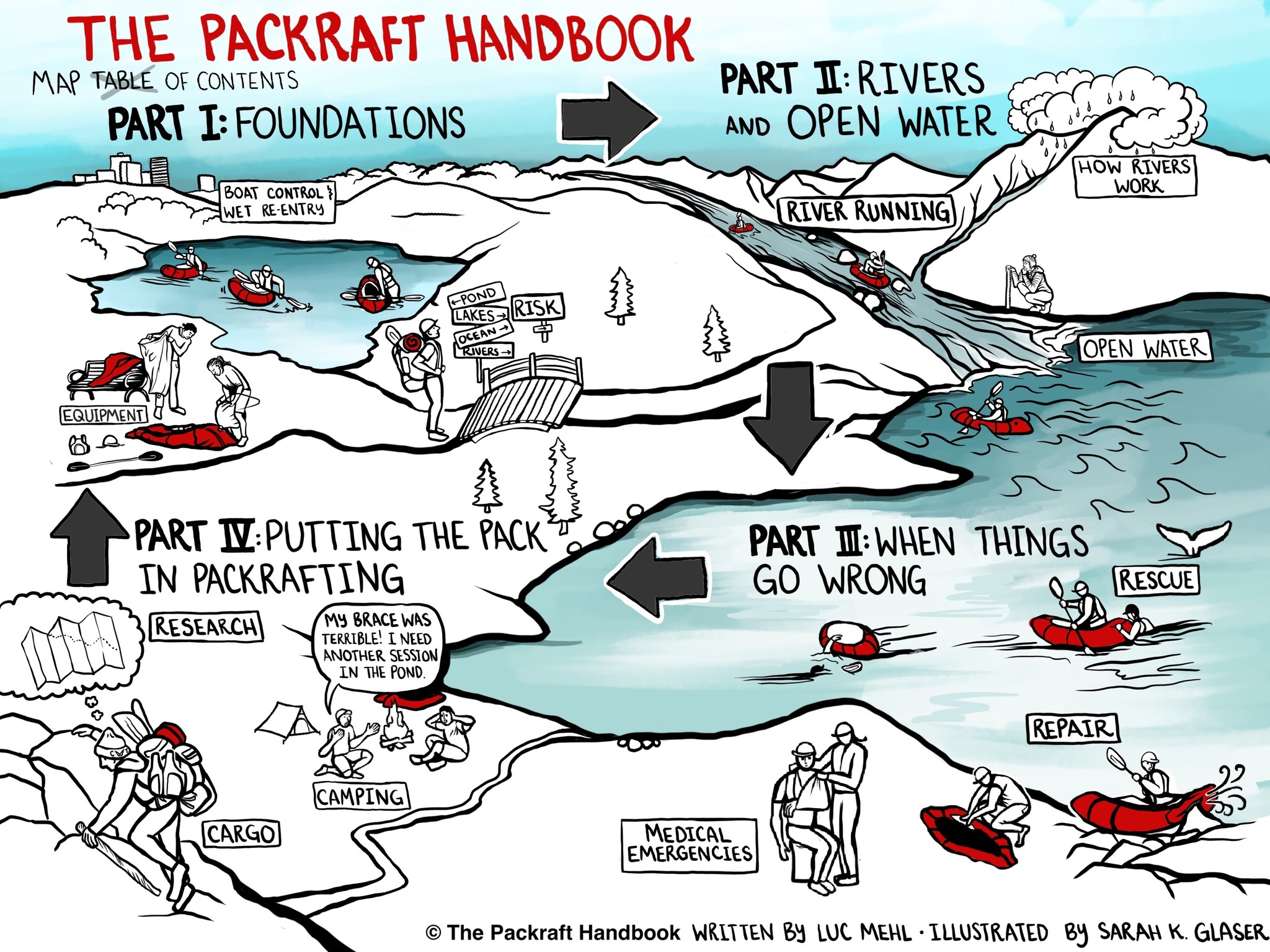 Local adventurer Luc Mehl has been a staple in the Alaskan adventure travel scene for years, and has pioneered many routes in the backcountry. 
He has also been the inspiration for untold adventures around the globe.His
 recent book, The Packraft Handbook, instantly became a staple for anyone looking to travel via packraft. He was kind enough to take some time out of his busy schedule to answer a few questions for us.
What inspired you to write the Packraft Handbook?
A lot of pieces just kind of fell into place. The big motivation was wanting to prevent incidents like Rob Kehrers drowning during the 2014 Wilderness Classic. But it took me a few years of re-learning how to paddle (safely), and then four years teaching swiftwater safety courses before I was confident enough to start the book.
What is one of your best memories on the river?
The first thing that comes to mind was a combat roll in Iceland. Rolling packrafts (capsize recovery while staying in the boat) is really challenging due to the hull design. I was paddling a section of Class IV high-volume rapids in Iceland when I capsized and then rolled upright. It would have been a long, cold, and maybe scary swim. I was SO grateful to have rolled upright. It also gave me a sense of affirmation for the work I'd done to practice and perfect my roll.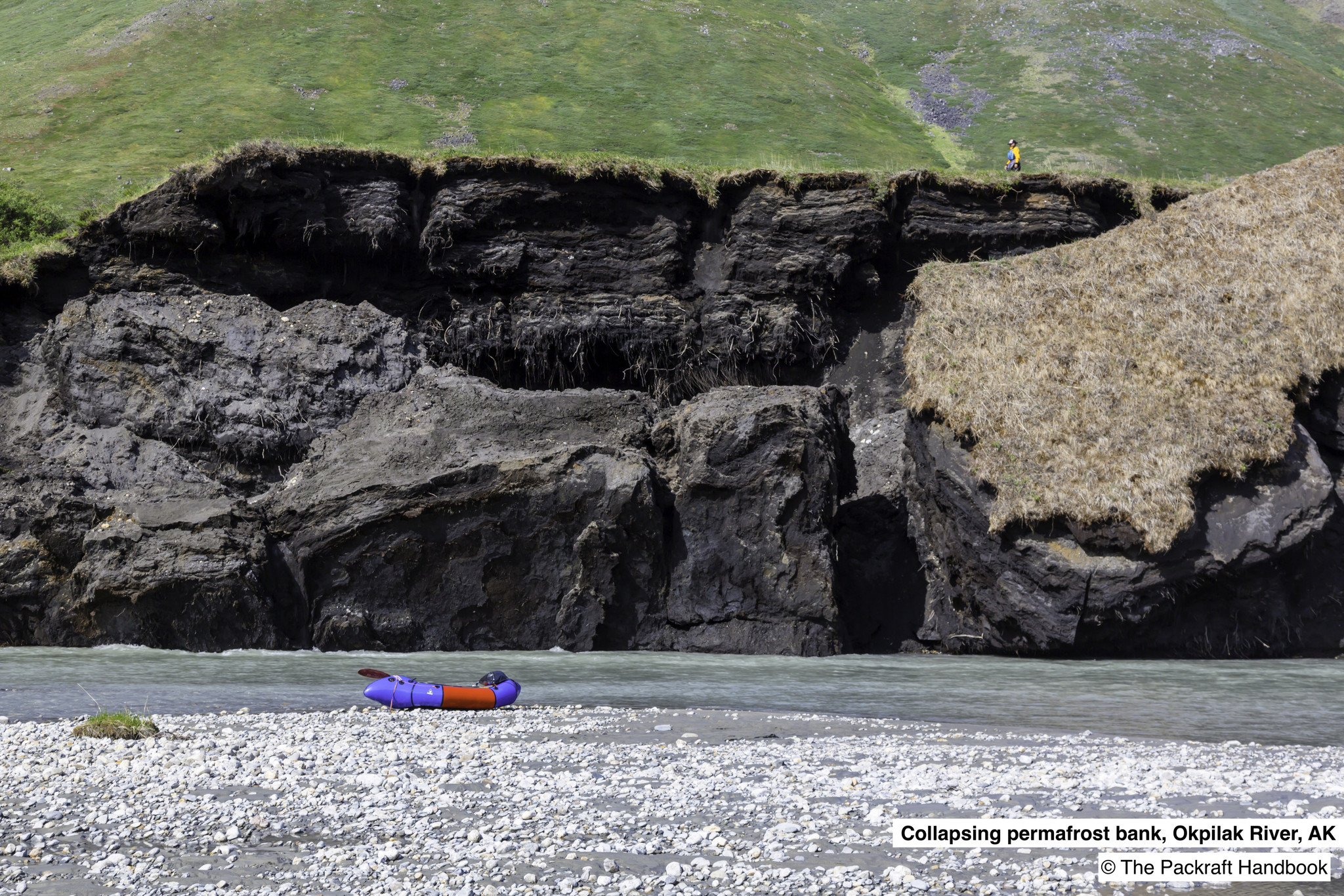 How many rivers have you packrafted?
Oh gosh. I just checked the index of The Packraft Handbook and see that there are photos from 46 Alaska locations … so … I'll multiply that by three … 138 rivers. Plus or minus.
What do you think is the number one safety issue for new boaters?
Statistically, the most common factor in packrafting fatalities is cold water. Dressing appropriately (for us in Alaska that means wearing a dry suit) is really important.
But my impression, based largely on my own learning curve, is that the number one issue is to acknowledge that we can't just hit the brakes or slide to a stop when things go wrong in the water. Paddle sports merit honoring the power of water and the importance of gradual progression.
How do you believe the boating community has evolved in Alaska in the last four years?
I'm really impressed with the changes I've seen. I love showing up to a river and seeing a bunch of people I don't know wearing proper equipment and with boats outfit in a way to minimize entrapment hazards. There aren't many movements I've been part of where I can zoom out and think, "Yes. This is working. We are doing it." Super cool.
Where do you see (or hope to see) the boating community 4 years from now?
I'm so happy with the safety trend that we are on now … I'll make my four-year goal about figuring out how to make the sport more inclusive. The entry price for equipment is a major barrier. It would be wonderful to see a more economically and culturally diverse group of paddlers on the water. They would make great emergency boats in the villages … I would like to see that happen.
What is your favorite boating snack?
The 2-pack fig bars from Costco are a common guest in my PFD pocket. Otherwise, just standard backcountry stuff … jerky, trail mix, string cheese, candy.
What is something you always take with you on remote trips?
Fun and capable partners! We are so lucky to be in Alaska surrounded by all of these humble bad-asses that love playing outside and are quick to embrace Plan B.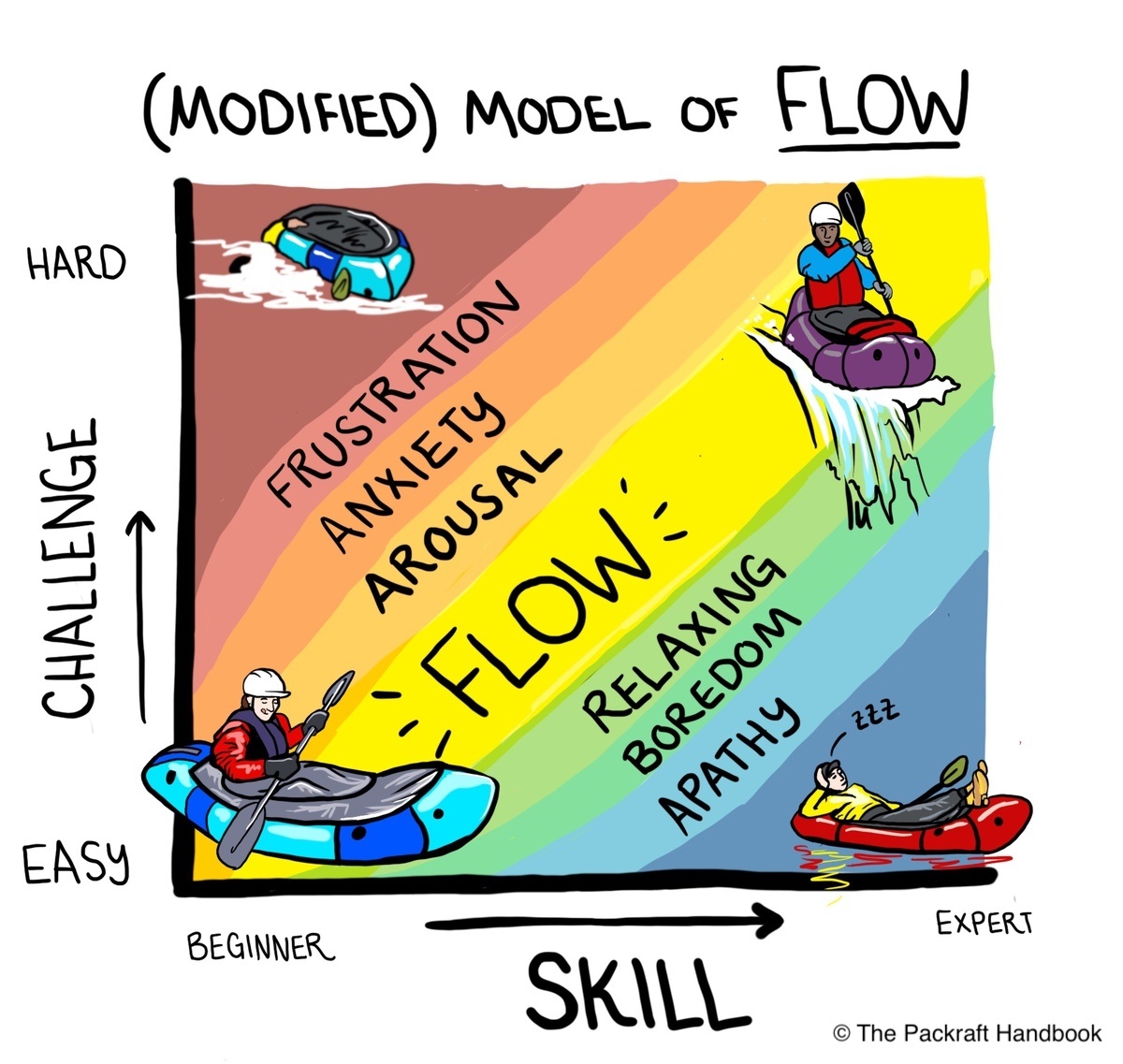 What is your advice for a novice boater looking to advance their skill set and go on extended trips?
There are more and more instructional opportunities each year, from Juneau to Fairbanks. Guides and instructors can help you build skills by identifying safe sites to try new things. For people that don't have access to formal courses, a cohort of like-minded partners works too. That's what I did, with some mentors who were willing to teach.
Courses or mentors help with the water part … and then to start traveling deeper into the mountains … I think the key is to start small and progress slowly. I did a lot of hiking on the Kenai Peninsula trail system before 'graduating' to remote trips … the time on trails helped prepare me. I joke with my wife Sarah Histand about lobbying to turn the campsite just two miles up the Lost Lake trail into the "Luc Mehl memorial camp site" after I die … because that's as far as I made it on an overnight trip in high school.
How long have you been planning and participating in 4+ day trips?
I was spending big blocks of time doing geology field work in college and grad school from 1999-2007, and I transitioned from field work directly into recreational trips. My first Wilderness Classic was in 2008, and that completely changed what I thought was possible to do under my own power.
How important would you say good group dynamic is for a remote trip?
I think the group dynamic is really important. But again, I think we are extremely fortunate to have such a deep pool of great partners in Alaska. The traits I look for in my partners are a relaxed attitude, willingness to talk about risk, physically strong but humble about it, and a willingness to change plans.
How do you physically prepare for boating season?
Pushups and pullups are a great way to train for the boating season. I used to do the "Armstrong pullup program" and noticed huge benefits for paddling and biking. The program involves sets of pushups and pullups each day. I also did some boxing against a bag … a few paddler friends told me boxing is really good for building the supportive muscles in the shoulders.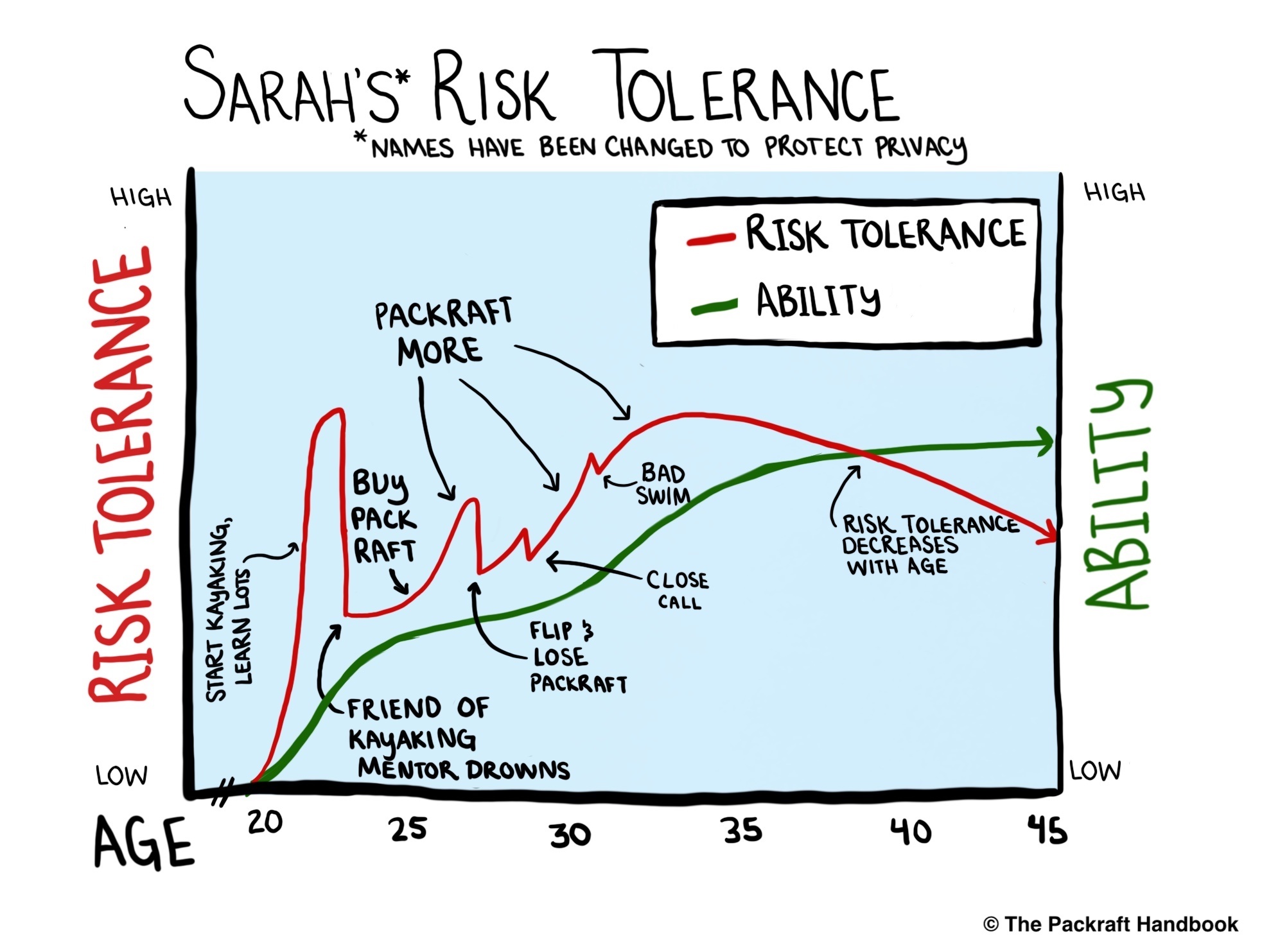 Your book includes great visuals drawn by local artist Sarah Glaser.  What was it like working with Sarah?
I couldn't have asked for a better working relationship with Sarah. This was one of the many things that just happened to fall into place … Sarah was recovering from knee surgery and wouldn't have been available for as many hours otherwise. Her background in river kayaking and having taken a swiftwater safety course put her in the perfect position to illustrate the book. Her eye for detail was incredible … little things like when you see a knife mounted on a life vest the cutting edge faces away from the neck … just like it should. Super cool. 
What was one of your favorite projects you two worked on together while writing this book?
We staged some foot entrapment scenarios in Sarah's back yard. Sarah was hobbling around in her knee brace, Ben Sullender suited up as a patient and (neighbor) Ben Chriswell climbed on a shed roof to take photos. Sarah kept the figures as identifiably us in the book, and I updated the text to match … "Sarah crosses under the rope and works her way upstream…"
Have you ever participated in a Costume theme night on the river? What was your costume? 
I haven't! We are usually too weight-conscious to carry fun stuff. Even on the Grand Canyon … we just had packrafts, so no room for costumes.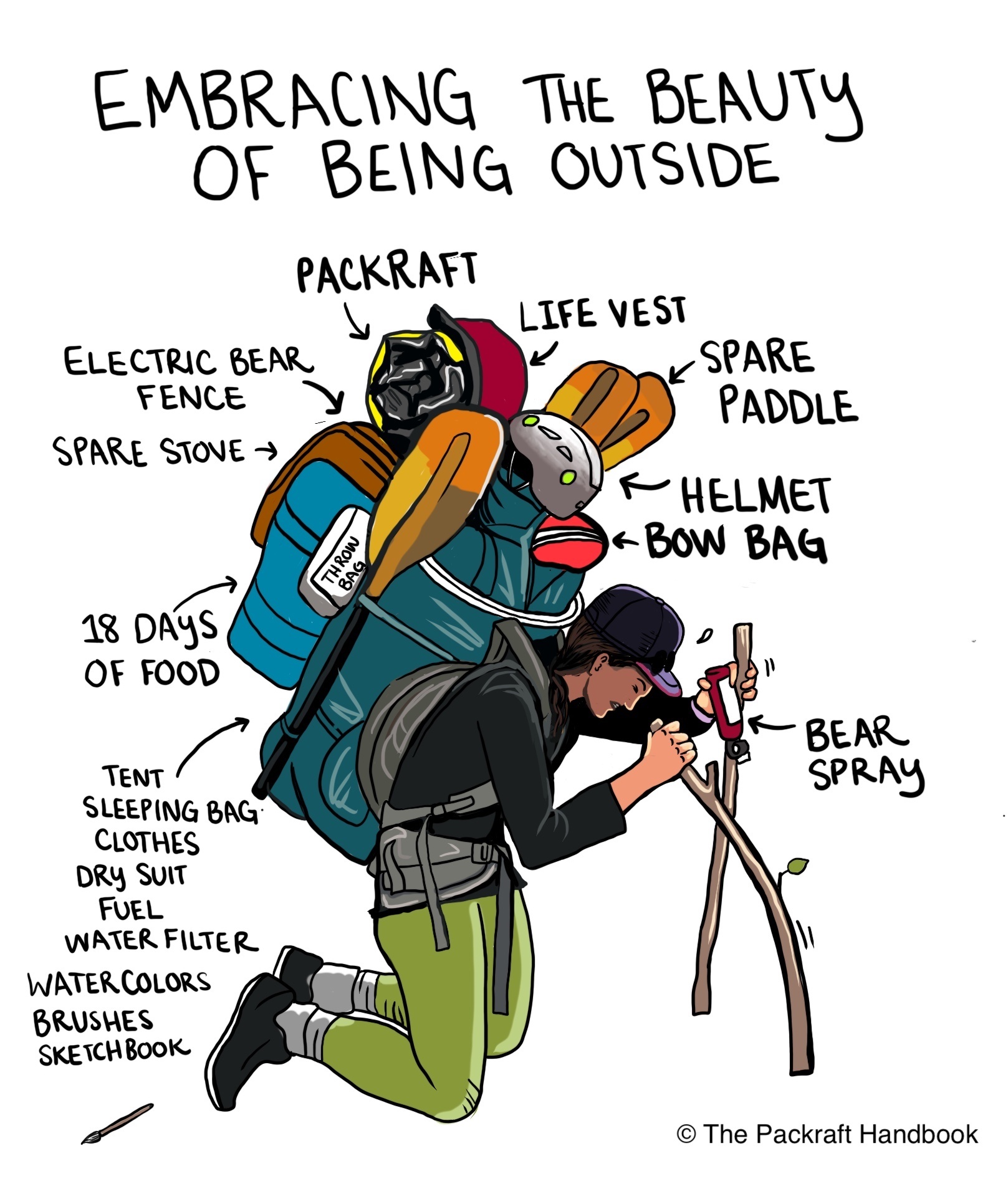 Do you think that travel and river navigation in Alaska is unique to other parts of the world?
I'm not in a great position to say … I haven't done much outside of Alaska. For sure the continuous tracts of wild lands are unique, and a big part of why I love Alaska. And it must be fairly unique to spend days on a river without seeing other people.
What do you take on your trips that people reading might not guess?
I bet I carry more weight than people expect. I'm associated with 'ultralight' travel, and I don't carry many comfort items, but I do carry a robust repair kit, inReach, battery packs, maps, compass, etc., in case things go wrong. My pack is heavy enough to be distracting until we get to about a nine-day load.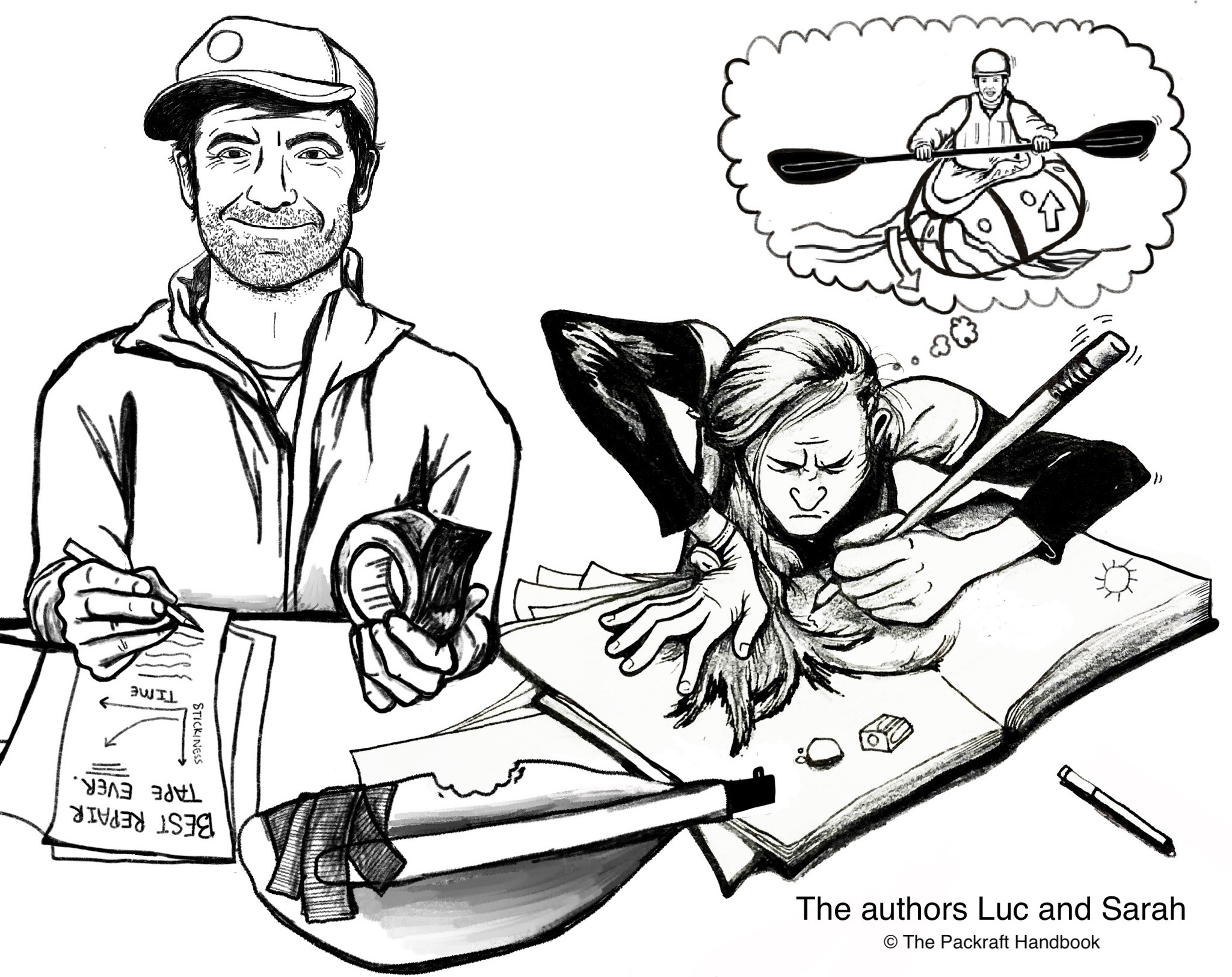 To read more about Luc's many adventures, check out his site:
You can see more of Sarah's incredible art at:
You can purchase The Packraft Handbook from us in store or online